IEH Training
W507 Health Effects of Hazardous Substances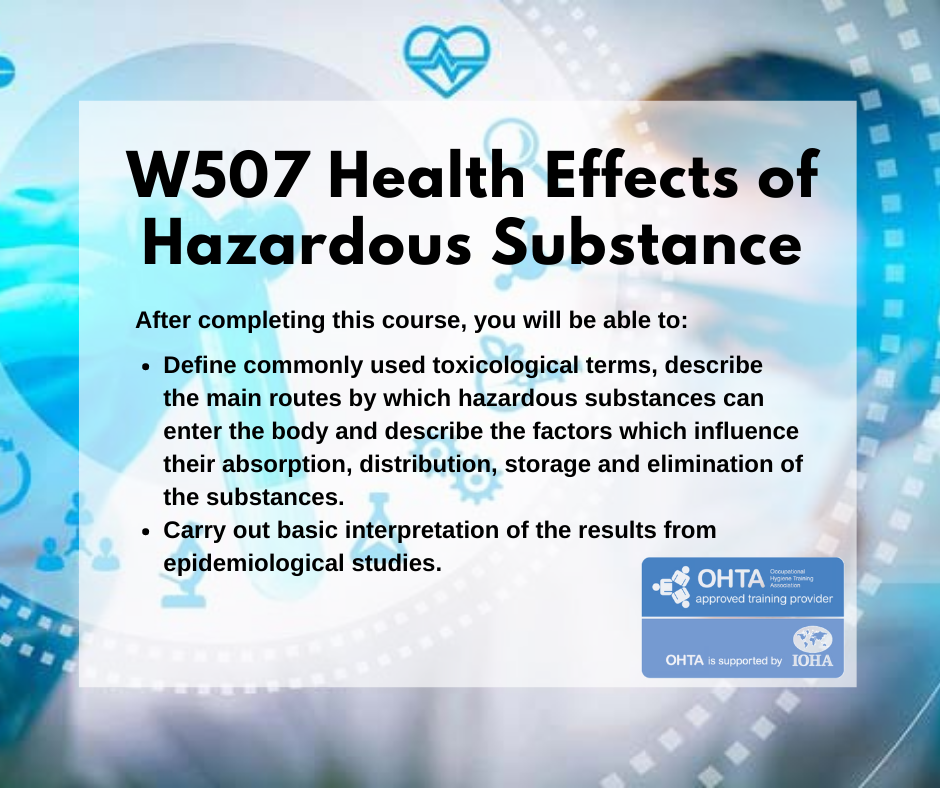 Date: 20 – 24 March 2023
Time: 10am – 6pm
Fee: SGD$1,726.92 (Inclusive of GST)
Delivery: Virtual Instructor-led Training
Overview
This course provides an introduction to the principles of toxicology, physiology and epidemiology. The course will cover the main types of harmful effects to target organs from exposure to chemical hazards at work.
Objectives
On successful completion of this course, attendees will be able to define commonly used toxicological terms, describe the main routes by which hazardous substances can enter the body and describe the factors which influence their absorption, distribution, storage and elimination of the substances. Attendees will also be able to carry out basic interpretation of the results from epidemiological studies.
Who should attend?
Suitable for any workplace safety and health professionals, project managers, support managers, operation managers and anyone in similar professions.
Course Outline
1. Basic Principles of Toxicology
2. Physiology and Target Organs
3. Epidemiology
4. Health Effects and Industrial Processes
Continuing Professional Development
WSHO 20 SDU
Course Assessment
Attendees are assessed with a 40-short answer open-book written examination with an allowed time of 120 minutes at the conclusion of the course.
Certification
BOHS will issue a certificate of successful course completion to candidates who have successfully completed the course.
This course is a core module for the International Occupational Hygiene Certificate and an accredited course by the British Occupational Hygiene Society (BOHS).
Pre-requisite and Workplace Literacy and Numeracy (WPLN)
Whilst there is no pre-requisite for this course, it is recommended that the attendee is certified with the Basic Principles of Occupational Hygiene (W201) certification. Ideally, a WPLN Level 5 or equivalent IELTS 5-6 would be recommended to ensure quality comprehension of the subject matter.
Examination resits are required to be completed within 12 months from the date of your first attempt at the qualification. Get in touch with us for clarification and to register.
For any enquiries, do email us at [email protected]
We look forward to welcoming you.