IEH Training
WSQ Noise and Vibration Monitoring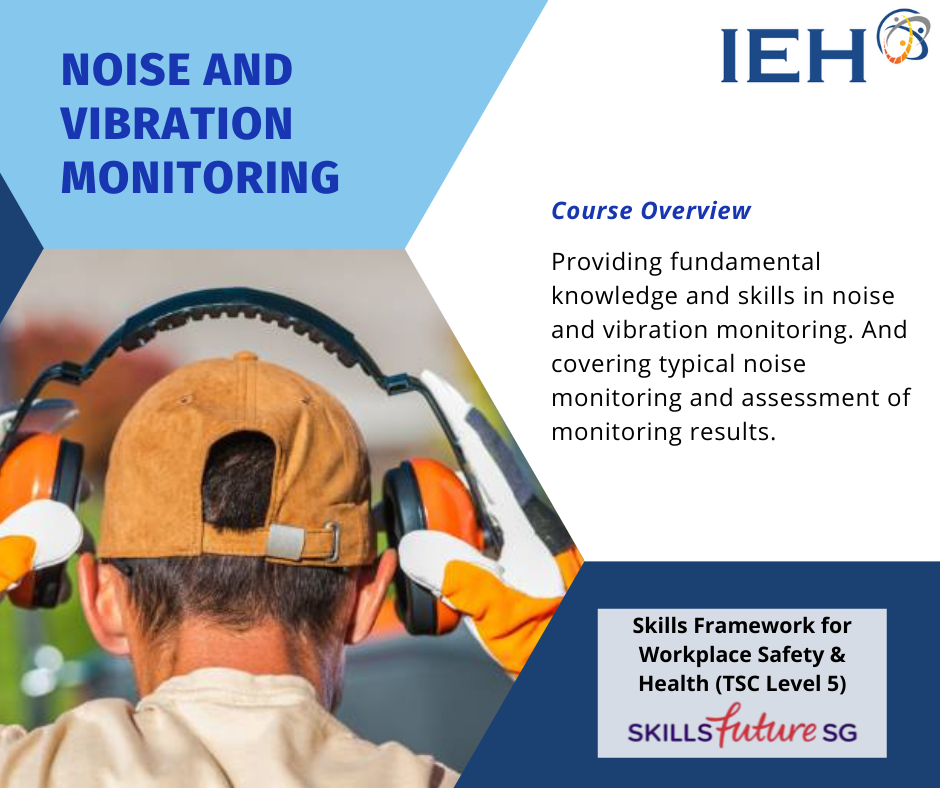 Date: To Be Scheduled
Duration: 3 days
Time: 9am – 6pm
Fee: $540.00* (Inclusive of GST and eligible for SkillsFuture grants)
Skills Framework for Workplace Safety and Health
Technical Skills & Competencies (TSC) Reference Document
Level 5 (WPH-WSH-5068-1.1)
Course Overview
This course aims to cover the basic principles of noise and vibration monitoring. It also provides fundamental knowledge and skills in noise and vibration monitoring and covers the typical noise monitoring and assessment of monitoring results.
Course Learning Outcome
Providing the participants with an appreciation of the nature of noise and vibration hazards in the workplace and their people. It also details the approach in monitoring noise and vibration assessments in the workplace and in the general environment. On completion of the course, the participant will be able to determine the significance of measured data in relation to legal requirements and compliance to Ministry of Manpower (MOM) requirements.
Learning Units
Introduction to sound
Exposure Levels and Legislation for Noise
Risk Assessment and Noise Assessment Surveys
Noise Control Engineering – Practical
Noise Monitoring Reports and Hearing Conservation Programmes (HCP)
Who should attend?
Participants interested to attain the qualification recognised by the Singapore Ministry of Manpower to advise occupiers and employers on noise and vibration monitoring at the workplaces
Workplace Safety and Health (WSH) professionals such as WSH Coordinators, Officers, and Auditors
Occupational Hygiene (OH) professionals such as OH Technicians and Occupational Hygienists
Other professionals in OH-related fields such as ergonomics, human factors, occupational psychology, noise monitoring and control, acoustics, as well as engineering and facility management specialists who would like to gain more knowledge on noise monitoring at the workplace
Pre-requisites*
ESS – WPL (Reading, Writing, Listening & Speaking) Level 6 OR GCE "O" Levels in English (Grades 1-6)
ESS – WPN – Level 6 OR GCE "O" Levels in Mathematics (Grades 1-6) OR "Bridging Module in Mathematics
GCE "O" Levels in Physics / Combined Science (Physics Inclusive) Grades 1-6 OR "Bridging Module in Physics"
Preferable to have 2 years of working experience in any industry

Or

Workplace Safety and Health Officer License

* Participants must be able to provide the documents for verification to be eligible for registration
Continual Professional Development
WSHO 20 SDU
Course Assessment
There will be a short assessment for each of the Learning Unit.
Certificate
Upon successful completion:
Attendance rate of at least 75%
Passed all assessments
Participants will be awarded the Statement of Attainment in Monitor Noise and Vibration from The Singapore Workforce Development Agency (WDA).