IEH Training
Hazardous Area Classification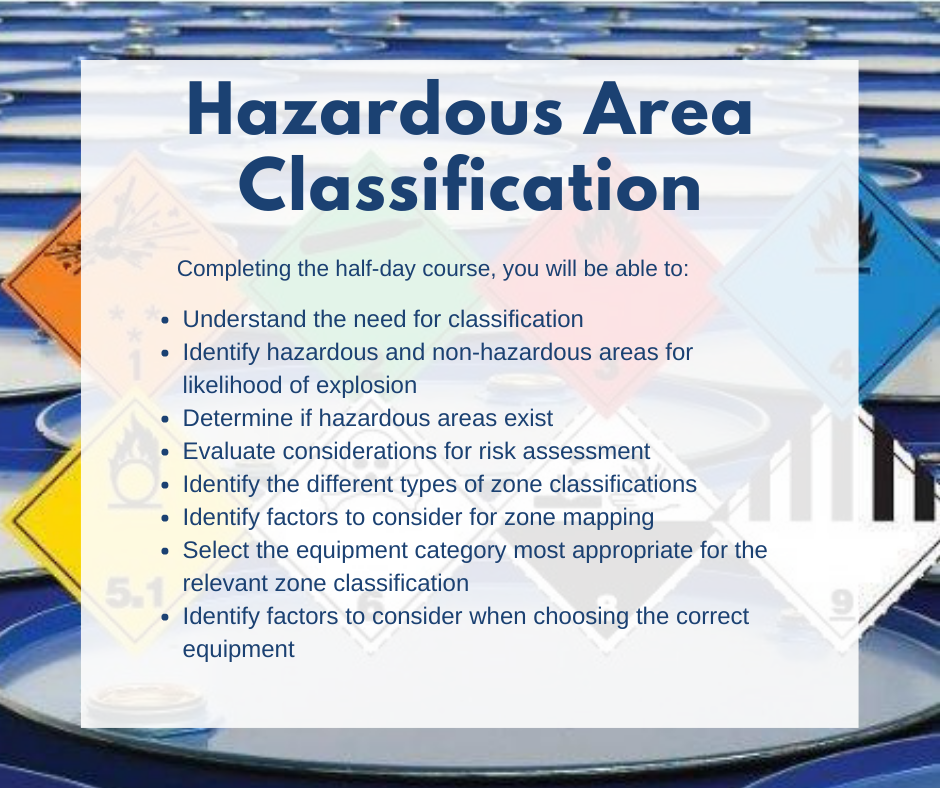 Date: To Be Scheduled
Duration: 4 hours
Fee: SGD$189.00 (Inclusive of GST)
Delivery: Virtual Instructor-led Training
Overview
Flammable gases, mists and vapours, or combustible dusts and fibres, are hazardous substances which can form explosive atmospheres under certain circumstances. Hazardous area classification is used to identify potentially hazardous zones and ignition sources in the workplace, and identify the equipment needed to prevent fires and explosions.
Objectives
At the end of the course, attendees will be able to:
Understand the need for classification
Identify hazardous and non-hazardous areas for likelihood of explosion
Determine if hazardous areas exist
Evaluate considerations for risk assessment
Identify the different types of zone classifications
Identify factors to consider for zone mapping
Select the equipment category most appropriate for the relevant zone classification
Identify factors to consider when choosing the correct equipment
Who should attend?
Fire Safety Managers, Workplace Safety and Health Professionals, Facility Managers, Workplace Managers or anyone who manages hazardous area classification.
Course Outline
Necessity for the Classification
Assessing the Risk, and Relationship between Fires and Explosions
Zone Classification Requirements for Gases, Vapours, Mists and Dusts
Equipment Categories and Zones, and Selection Criteria
Continuous Professional Development
FSM 3 CPD
Certification
Attendees will be awarded a certificate of attendance in 'Hazardous Area Classification'.
This is an Institute of Ergonomics and Hygiene (IEH) accredited course.
Enquiry
Reach out to us at [email protected]